Call For Entries
for the 2020 German-Australian Opera Grant
for the Wiesbaden Theatre season August 2020- July 2021
(commencing in June 2020 with a preparation period)

MTO invites applications for the fifteenth German-Australian Opera Grant
sponsored by the German-Australian Community and Hessisches Staatstheater Wiesbaden.

More Than Opera in cooperation with the Hessisches Staatstheater Wiesbaden
invites applications for the 18th German-Australian Opera Grant

Up to twelve candidates (6 male & 6 female singers)
with opera stage experience will be selected for the


Semi-Finals on 9th August 2019
On the same day four Finalists will be chosen to compete at the
Opera Finale on 10th August 2019
Deakin Edge, Federation Square, Melbourne
---
Applications close 24th May 2016.
Please study the detailed Rules and Regulations.
---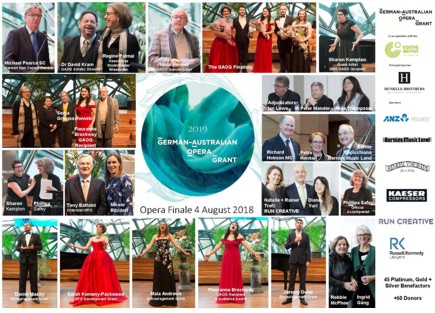 4 August 2018
at Deakin Edge, Federation Square, Melbourne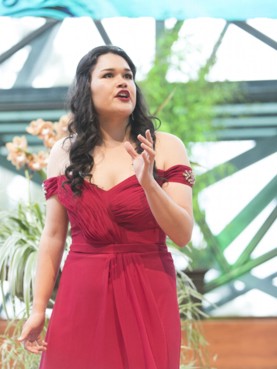 Fleuranne Brockway (mezzo-soprano)
2019 GAOG recipient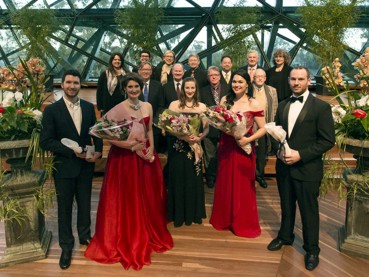 Finalists, Adjudicators and MTO officials at the Opera Finale

---
The German-Australian Opera Grant
The aim of the German-Australian Opera Grant is to promote emerging Australian opera singers in the early stage of their professional life with operatic stage experience capable of meeting the high quality standards of this major German Opera House.
This Grant includes a one-year employment (junior) contract with the HESSISCHES STAATSTHEATER WIESBADEN (August 2020 - July 2021), one month of German language tuition at the Goethe-Institut (July - August 2020) and one month of work experience at the Opera House (June 2020) for an insight into procedures prior to the official start. An adequate amount of money will ensure that living costs are covered. The Grant recipient also receives a cheque for $4500, which will help in the preparation stage for the time overseas.

In addition to the German-Australian Opera Grant the Finalists have the opportunity to be considered for:
MTO Grant - Developing Artist
$3500 plus performance opportunity in Australia
Audience Award
$2500
Encouragement Grant(s)
$1500
---