The
German-Australian
Opera Fest
at the Hessisches Staatstheater Wiesbaden
Guest of Honor: His excellency the Australian Ambassador to Germany
Ian Kemish AM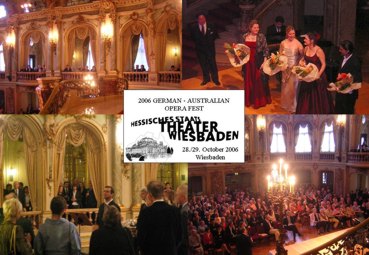 German-Australian Opera Fest Programme

Click here to download PDF programme for this event
---
Carmen
on Saturday, 28 October 2006, 7.30pm
in the Grosses Haus of the Hessisches Staatstheater Wiesbaden
with an Australian cast - details see below
Champagne Gathering prior to the performance at 6.30pm and
during the interval At 7.00pm the opera director Bodo Busse
will give an introduction to the opera Carmen.
---
Opera Concert
on Sunday, 29 October 2006, 3.00pm
in the Foyer of the Hessisches Staatstheater Wiesbaden
The 1st and 2nd Winner of the 2006 German-Australian Opera Grant,
Angus Wood and Lisa Robinson will present opera excerpts and works
Hessian, Australian and other composers accompanied by Dr David Kram


Angus Wood
Tenor
Winner of 2006 German-Australian Opera Grant


Lisa Robinson
Soprano
2nd Prize at 2006 German-Australian Opera Grant


Dr David Kram
Head of Opera at Victorian College of the Arts; Director More Than Opera Ltd, Conductor, Piano (conductor 1991-94 at the Hessisches Staatstheater)
---
Champagne Reception
afterwards, 4.45pm
on the 1st level of the Foyer with a guided tour backstage at 5.45pm
---
Enjoy your Sponsorship and get involved
The German-Australian Opera Grant and the Hessisches Staatstheater Wiesbaden wish to encourage all Sponsors, Benefactors and their friends to attend the German-Australian Opera Fest in Germany, and also to become hosts themselves by inviting their clients, associates or friends to this unique German-Australian cultural and business platform.
Please contact us for more information: info@mto-gaog.com
The German-Australian Opera Grant
The aim of the grant is to promote emerging Australian opera singers in the development stages of their professional career. The German-Australian Opera Grant is represented by Mr Stephen Murby and Dr David Kram, Directors of More Than Opera Ltd and the German-Australian Opera Grant adjudication panel (Ian Lowe - Melba Conservatorium, Peter Mander - Monash University, Merlyn Quaife - Melbourne University, Hans Henkell - Administrator) in cooperation with the Hessisches Staatstheater Wiesbaden represented by Dieter Senft and Bodo Busse.
---
The Australian cast of CARMEN at
the German-Australian Opera Fest

David Kram - Conductor
The music is challenging, to a certain extent a "musical pastiche" with many alternating styles and forms of expression: dances, dramatic dialogues, Lieder and folk songs, arias and recitatives - a potpourri of the late 19th century.

Sharon Kempton as Micaela
Micaela with her middle-class values of reason, family, security and respectability is anchored at the other end of the spectrum to Carmen, who stands for passion, freedom and social independence.

Emma Person as Frasquita
This Frasquita is tragic and funny. She is not unalike the colourful "ladies" a person might see in the early morning hours around Sydney's Kings Cross.

Angus Wood as Dancairo
A comical figure from the tradition of the "Opera comique", the parody of an unrespectable petty criminal. A smuggler from the infamous milieu surrounding Carmen.
R.S.V.P 15 October 2006