2007
German-Australian
Opera Grant
OPERA FINALE
10 December 2006
---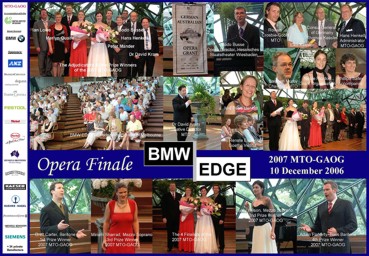 10 December 2006
at BMW Edge, Federation Square, Melbourne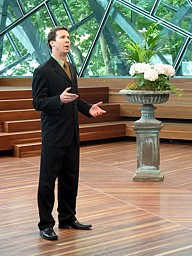 Winner of the 2007 German-Australian Opera Grant:
Brett Carter, Baritone - QLD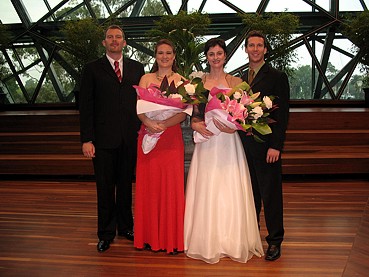 The four finalists:
Adam Flaherty (4th), Miriam Sharrad (3rd), Sally Wilson (2nd), Brett Carter (Winner)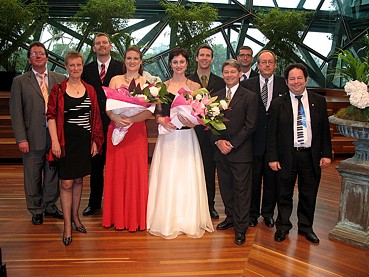 Adjudicators and Finalists of the 2007 German-Australian Opera Grant

---
1st Prize
One (1) year employment contract at the Hessisches Staatstheater Wiesbaden in Germany, plus return airfare, two (2) months German language course at the Goethe Institut in Germany and one (1) month work experience at the Opera House from early June 2007 to gain an insight into the procedures prior to the official start.
The recipient will become part of the professional ensemble in Wiesbaden from July/August 2007 until July/August 2008.
2nd Prize
The second prize winner will receive $3000.
3rd Prize
The third prize winner will receive $2000.
4th Prize
The fourth prize winner will receive $1000.
---
The Semi-Finalists
of the 2007 German-Australian Opera Grant
Semi-Finals will be held on 9 December 2006 at Lithuanian Club Theatre, North Melbourne.
Finals Concert on the 10 December 2006, 4.00pm at BMW Edge, Federation Square.

Guy Booth
Baritone
QLD

Harriet Marshall
Lyric Soprano
NSW

Lisa Anne Robinson
Lyric Soprano
VIC

Brett Carter
Baritone
QLD

Benjamin Fifita Makisi
Lyric Tenor
NSW

Miriam Sharrad
Lyric Mezzo Soprano
WA

Nicole Wallace
Soprano
VIC

Adam Flaherty
Bass-Baritone
NSW

Douglas Mcrae
Baritone
NSW

Sally Wilson
Lyric Mezzo Soprano
VIC

Zara Barrett
Baritone
NSW

Emily Xiao Wang
Soprano
VIC
What is MTO-GAOG?
More Than Opera Ltd represented by Mr. Stephen Murby and Dr. David Kram (Victorian College of the Arts) and the German-Australian Opera Grant adjudication panel (Ian Lowe - Melba Conservatorium, Peter Mander - Monash University, Merlyn Quaife - Melbourne University, Hans Henkell - Administrator) in cooperation with the Hessisches Staatstheater Wiesbaden represented by opera director Bodo Busse, offer the German-Australian Opera Grant.
The aim of the grant is to promote emerging Australian opera singers, who are in the development stages of their professional career.