2009
German-Australian
Opera Grant
OPERA FINALE
15 November 2008
---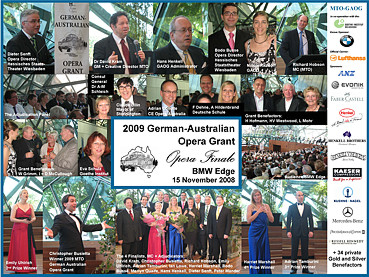 15 November 2008
at BMW Edge, Federation Square, Melbourne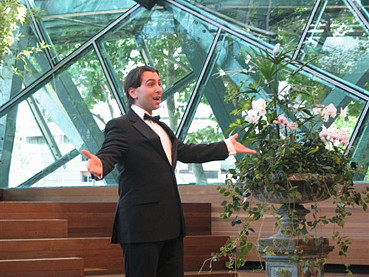 Winner of the 2009 German-Australian Opera Grant:
Christopher Busietta, Lyric / Buffo Tenor - VIC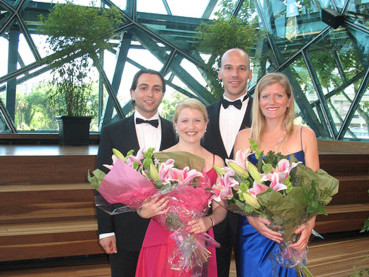 The four finalists:
Christopher Busietta, Emily Uhlrich, Adrian Tamburini, Harriet Marshall

1st Prize - Christopher Busietta, Lyric/Buffo Tenor, VIC
2nd Prize - Emily Uhlrich, Soprano, VIC
3rd Prize - Adrian Tamburini, Bass Baritone, VIC
4th Peize - Harriet Marshall, Soprano, WA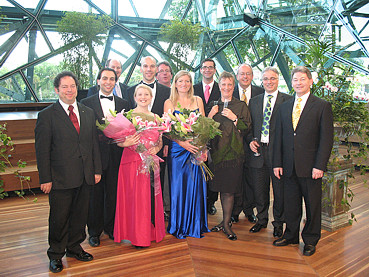 Adjudicators and Finalists of the 2009 German-Australian Opera Grant (from left):
Dr David Kram, Christoper Busietta, Richard Hobson (MC), Emily Uhlrich,
Adrian Tamburini, Ian Lowe, Harriet Marshall, Bodo Busse (opera director Wiesbaden),
Merlyn Quaife, Hans Henkell, Dieter Senft (opera director Wiesbaden),
Peter Mander.
---
1st Prize
The winner will be granted a twelve months employment contract (mid August 2009 until July 2010) with the Hessisches Staatstheater Wiesbaden in Germany plus 2 months German tuition at the Goethe Institut (July / August 2009) and one month work experience (June 2009) for an insight into procedures prior to the official start.
An adequate amount of money will ensure that living costs are covered. The grant will be given to an outstanding emerging Australian opera singer in the early stage of their professional life with operatic stage experience capable of meeting the high quality standards of this major German opera house.
The value of this grant (including costs occurring in Australia) is approximately $60,000 including a return airfare to Wiesbaden.
NEW: For the first time this year's 1st prize winner also receives the ALLCOLLINS prize, a cheque over $4000 which will help in the preparation stage for the time overseas.
The prize is kindly donated by an (anonymous) German family with strong links to Australia and the arts.
2nd Prize
The second prize winner will receive $3000.
3rd Prize
The third prize winner will receive $2000.
4th Prize
The fourth prize winner will receive $1000.
---
The Semi-Finalists
of the 2009 German-Australian Opera Grant

Robert Beasley
Baritone
VIC

Emily Burke
Soprano
QLD

Guy Booth
Baritone
QLD

Mylinda Joyce
Soprano
VIC

Chris Busietta
Lyric / Buffo Tenor
VIC

Victoria Lambourn
Mezzo Soprano
VIC

Samuel Dundas
Baritone
VIC

Harriet Marshall
Soprano
WA

John Longmuir
Tenor
WA

Kathleen Parker
Lyric Soprano
WA

Adrian Tamburini
Bass Baritone
VIC

Emily Ulrich
Soprano
VIC

Jeremy Tatchell
Lyric Baritone
ACT

Nicole Wallace
Soprano
VIC