2011
German-Australian
Opera Grant
The ninth MTO German-Australian Opera Grant sponsored by
the German-Australian Community and Hessisches Staatstheater Wiesbaden
OPERA FINALE
4 December 2010
---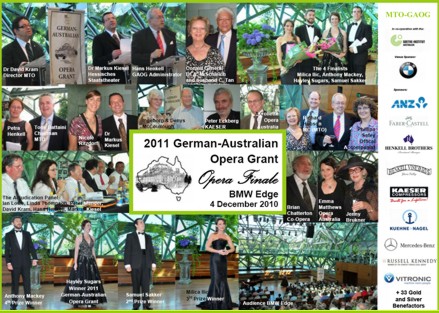 4 December 2010
at BMW Edge, Federation Square, Melbourne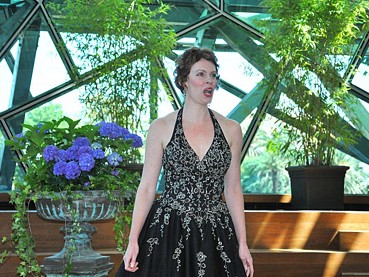 Winner of the 201 German-Australian Opera Grant:
Hayley Sugars, Mezzo-Soprano - QLD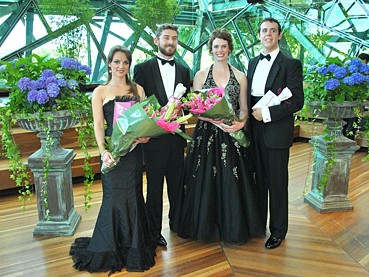 The four finalists (from left):
Milica Ilic (3rd), Anthony Mackey (4th), Hayley Sugars (1st), Samuel Sakker (2nd)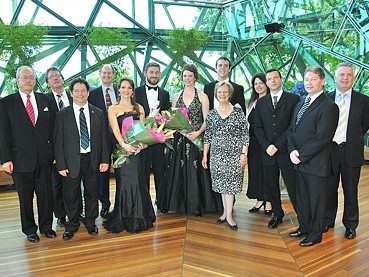 Adjudicators and Finalists of the 2011 German-Australian Opera Grant (from left):
Hans Henkell, Ian Lowe, David Kram, Richard Hobson, Milica Ilic, Anthony Mackey,
Hayley Sugars, Samuel Sakker, German Consul General Dr Anne-Marie Schleich,
Linda Thompson, Dr Markus Kiesel, Peter Mander, Anthony Battaini

Semi Finals & Opera Finale 2011 Documentation
---
1st Prize
The winner will be granted a twelve months employment contract (mid August 2011 until July 2012) with the Hessisches Staatstheater Wiesbaden in Germany plus one month German tuition at the Goethe Institut in Berlin (July / August 2011) and one month work experience (June 2011) for an insight into procedures prior to the official start at the opera house as well as a the ALLCOLLINS $4000 cash prize.
An adequate amount of money will ensure that living costs are covered. The grant will be given to an outstanding emerging Australian opera singer in the early stage of his/her professional life with operatic stage experience capable of meeting the high quality standards of this major German opera house.
The value of this grant (including costs occurring in Australia) is approximately $64,000 including a return airfare to Wiesbaden and a $4000 cash prize.
2nd Prize
The second prize winner will receive $3000.
3rd Prize
The third prize winner will receive $2000.
4th Prize
The fourth prize winner will receive $1000.
---
The Semi-Finalists
of the 2011 German-Australian Opera Grant

Robert Barbaro
Tenor
VIC

Diipti Firmstone
Soprano
VIC

Martin Buckingham
Lyric Tenor
NSW

Jassy Husk
Soprano
TAS

Michael Lampard
Baritone
TAS

Milica Ilic
Soprano
QLD

Anthony Mackey
Bass
VIC

Maria Okunev
Soprano
NSW

Samuel Sakker
Tenor
NSW

Una Marie Reynolds
Soprano
NSW

Jeremy Tatchell
Baritone
ACT

Hayley Sugars
Mezzo-Soprano
QLD