2015
German-Australian
Opera Grant
The thirteenth MTO German-Australian Opera Grant sponsored by
the German-Australian Community and Hessisches Staatstheater Wiesbaden
OPERA FINALE
1 August 2014
---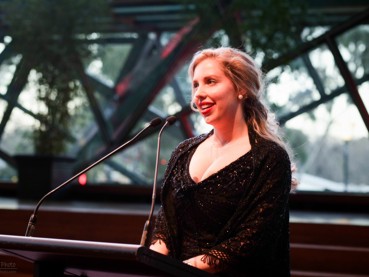 Celeste Haworth
Recipient of the 2015 German-Australian Opera Grant
Click here to see a short clip from
the OPERA FINALE (youtube)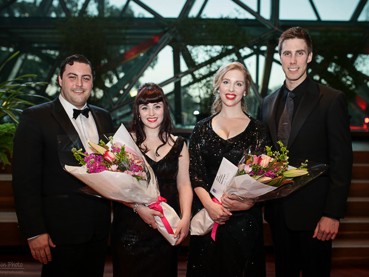 4 Finalists at the Opera Finale:
Matthew Reardon (tenor) – Audience Award, Rebecca Rashleigh (soprano) – MTO Development Grant,
Celeste Haworth (mezzo-soprano) – 2015 GAOG Recipient, Sam Roberts-Smith (baritone) – Encouragement Grant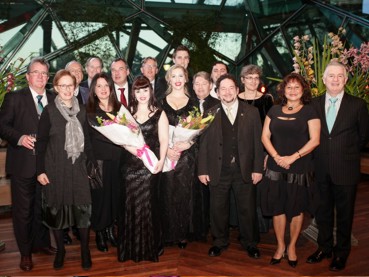 Finalists, Adjudicators and MTO Directors (from left):
Ian Lowe, Petra Henkell, Hans Henkell, Richard Hobson (MTO), Linda Thompson, Uwe Eric Laufenberg (HSW),
Rebecca Rashleigh, German Honorary Consul General Michael Pearce SC, Celeste Haworth, Sam Roberts-Smith,
Peter Mander, Matthew Reardon, Dr David Kram (MTO), Phillipa Safey (Accompanist),
Cr Beverly Pinder-Mortimer (City of Melbourne), Tony Battaini (Chairman MTO)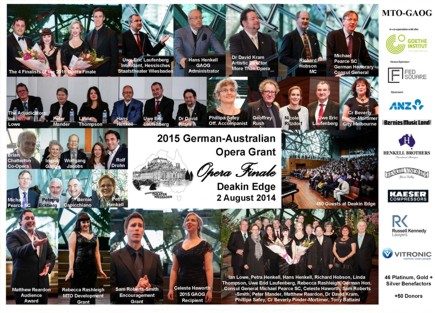 2 August 2014
at Deakin Edge, Federation Square, Melbourne
---
The German-Australian Opera Grant
The winner will be granted a twelve months employment contract (mid August 2015 until July 2016) with the Hessisches Staatstheater Wiesbaden in Germany plus one month German tuition at the Goethe Institut in Berlin (July 2015) and one month work experience (June 2015) for an insight into procedures prior to the official start at the opera house.
An adequate amount of money will ensure that living costs are covered. The grant will be given to an outstanding emerging Australian opera singer in the early stage of his/her professional life with operatic stage experience capable of meeting the high quality standards of this major German opera house.
The value of this grant (including costs occurring in Australia) is approximately $70,000 including a return airfare to Wiesbaden and a $4000 cash prize.

In addition to the German-Australian Opera Grant the Finalists have the opportunity to be considered for:
MTO Grant - Developing Artist
$2500 plus performance opportunity in Australia
Audience Award
$2500
Encouragement Grant(s)
$1000